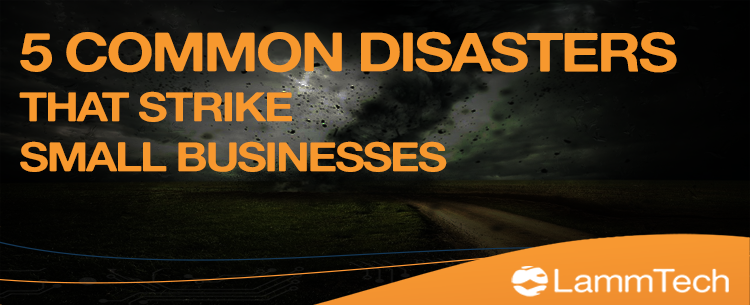 5 Common Disasters that Strike Small Businesses - 2022 Update
The challenges that small businesses face is never ending. For the employees who take on these tasks, it can quickly become overwhelming. So much so that true disasters, whether they be natural or man-made, rarely cross their mind.
It's no wonder that many small businesses have never developed a Disaster Recovery Plan. Understanding the risks of the disasters that small businesses face is daunting. Trying to figure out how best to prepare and prevent against the effects of these disasters can be difficult without the help of a technology expert.
The disasters that cause small organizations the most damage are the ones that many business owners may not consider to be all that common. Hardware failure and power outages are often left out of the conversation but can cause major destruction and data loss. Our goal today is to illuminate a few common disasters that small businesses face, as well as how having a Managed Service Provider can be instrumental when implementing a business continuity solution to minimize downtime.
Natural or site-wide disasters
When you hear the word disaster, most likely your first thought is of natural disasters, such as tornadoes, earthquakes, and hurricanes. These can be catastrophic and cripple small businesses.
Even more threatening are fires, floods, and other common tragedies that can occur regardless of a particular geographic location's propensity toward certain natural disasters. These events almost always lead to site-wide damage and small businesses with only one or two locations are especially vulnerable. No amount of money spent can prevent site-wide and natural disasters from occurring; the only recourse for businesses affected by these calamities is to get back up and running as soon as possible after they happen.
Cyber-attacks
Ransomware, viruses, and other forms of malware can wreak serious havoc on small businesses. According to a report by ThreatLocker, in the first half of 2021 the average ransom payment was $570,000. This was an 83% increase from the previous year's findings. Making a payment like this to retrieve vital customer information could be devastating to a business. It could even lead to business closure.
Other consequences stemming from cyber-attacks – such as data theft, data corruption, and permanent data deletion — can seriously affect businesses and their customers as well. Though deploying a firewall and security software is an important first step, having a fallback continuity strategy in place in case cyber-attacks get through to a company's systems is crucial.
Hardware failure & Software corruption
Hardware failure is one of the most disruptive disasters and can strike a small business at any time. Any kind of hardware failure can result in the inability to access critical data and the worst part is that hardware failure is both inevitable, and completely unpredictable. Whether it is a clicking hard drive in an email server or a fried motherboard inside a central file server, failed hardware leads to downtime and lost productivity.
Permanent corruption of server data, such as corruption of the operating system or damage to line-of-business applications, could lead to significant downtime. Even the most sophisticated storage apparatuses are not immune to software corruption which could severely disrupt small businesses that do not have a backup and disaster recovery solution in place.
Power outages
Electrical issues are real — and they are costly. Blackouts, power shortages, and other power-related issues are not as uncommon as many businesses think. In fact, a 2018 survey by Frost and Sullivan in partnership with S&C Electric found that nearly half of companies surveyed experienced a power outage at least once per year. In addition, nearly a quarter of those who responded experienced outages at least once per month.
Outages can cause damage including loss of data and harm to equipment. The downtime incurred by a power outage can also cost companies significant loss of time, money, and customers.
Manmade disasters
When we say man made, we're mostly talking about your employees. According to PwC's The Lost Workforce Report, by 2030 the estimated cost of a talent shortage and skills gap in the United States will be $8.5 trillion dollars. What does this have to do with a manmade disaster when it comes to technology?
Humans are often the weakest link in a business's security strategy and the skills gap is a direct cause. Employees who have heavy workloads, and are missing out on training because of that, are more likely to make the kind of mistakes that lead to a crisis. Becoming the victim of a phishing scam or sharing documents outside of the company that shouldn't be shared. These and other mistakes can lead to losses that your company might not be able to recover from.
What can a Managed Services Provider do to help
Having a trusted IT Partner can't necessarily keep all the disasters we've discussed from happening. As much as we'd like, we can't control the weather. But an MSP can help you prepare and help to mitigate risk.
An MSP like LammTech does this by helping your business to create a Disaster Recovery Plan so that if disaster does strike, you a have clear steps to take. We work to monitor your hardware and software to make sure that you don't have any unwanted surprises or costs. Finally, we provide training in cybersecurity to help combat those threats and give your employees the skills to recognize what they should be looking for.
By
LammTech
|
April 5th, 2022
|
Categories:
IT Managed Service
,
cybercrime
,
CyberSecurity
,
business continuity
,
columbia mo
,
IT Managed Services
,
Ransomware
,
kansas city mo
,
Managed IT Services
,
Small Business IT Solutions
,
sedalia mo
,
Data Security
,
MSPs
,
phishing email
,
skills gap
,
Data Backup And Disaster Recovery Solutions
,
IT Security MO
,
virus
|
Comments Off