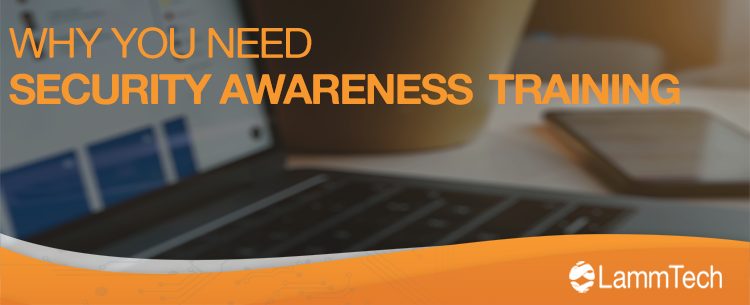 Why You Need Security Awareness Training
One thing that has risen simultaneously with the growth of the internet is the volume of cyberattacks. The number of security breaches on the world wide web is increasing with each passing day. Unfortunately, no one's data is safe anymore.
Today, businesses both big and small can find themselves the victim of a cybersecurity breach that can be hard to repair. The concerns over online security are intensifying. While the causes and types of such attacks vary, the key target of cyber attackers remains the same. Enterprises have never been more vulnerable.
When it comes to the online security of your organization, your employees are often the main target. The majority of cyberattacks are meant to exploit the human element of an enterprise and cause harm to the entire establishment. Data breaches often caused by human error.
To safeguard your company, and assets, you must give your employees tools and information to combat highly skilled hackers that aim to steal your data. Security Awareness Training can help you achieve just that!
The Most Common Cybersecurity Threats Faced by Organizations Today
According to the IBM Cost of a Data Breach 2020 report, the global average total cost of a data breach was as high as $3.86 million. The most common attacks that lead to internet security breaches were Phishing (14%), Compromised Credentials (19%), and Business Email Compromise (17%).
Phishing is one of the most widespread security threats that businesses everywhere are facing. This type of cybercrime typically occurs when attackers pose as a legitimate person/organization. They aim to lure employees into giving them valuable data such as personally identifiable information, sensitive company and customer data, banking information, or passwords. Then they use this information to access important accounts which can result in data theft and financial loss.
Emails are the most common gateway into an organization's otherwise secure environment. Hackers usually target employee emails as a pathway to cause a larger data breach. By providing proper security awareness training and then periodically testing their knowledge, you can mitigate your risk. Helping you to protect your company's assets.
What is a Security Awareness Training & Why Ignoring It Could Be a Huge Mistake?
Cybercrimes continue to evolve in size, cost, and complexity. Most present-day companies are finding themselves facing a Herculean task of protecting their safety, their customer's data, and retaining goodwill all at the same time. Even a bit of negligence in taking care of your online security can have serious repercussions. As an organization, you cannot afford to make mistakes when it comes to your safety on the internet.
As we said before, one of the main reasons why the digital security of an organization faces threats is the unawareness of its employees. They unknowingly click on harmful and malicious emails or links, thereby allowing the hackers to invade your firewalls and security software.
However, employees can't always take the blame for this. How can they identify, report, and avoid a security threat if they haven't learned how to recognize it in the first place?
A well-rounded and high-quality security awareness training program for employees is crucial for the security of your organization. Such a training program includes informing them about cybersecurity know-how, types of cybercrimes, and common reasons for security breaches. Most importantly, it teaches them how to spot and avoid the most common tricks!
Knowledge is power! When you provide security awareness training to your employees, you empower them with up-to-date information. Allowing them to recognize, report, and handle a cybersecurity threat. This strengthens the most vulnerable link in the chain and increases your chances of easily dodging an online security attack.
How Can LammTech Help?
The online safety of your organization is not something to be toyed with. Even when you think you are completely safe from data breaches; hackers can often take you by surprise.
To help you protect your organization from malicious online security threats and cybercrimes, LammTech is introducing a security awareness training program. This program will evaluate your employees' awareness of security and educate them about the latest cybercrimes. It will help them to identify, prevent, and report breach attempts and maintain an increased sense of security.
So, what are you waiting for?
Contact us now and shield your business from all kinds of cyber threats and breaches!
By
LammTech
|
June 1st, 2021
|
Categories:
IT Managed Service
,
IT Security
,
cybersecruity
,
columbia mo
,
Newsletter Articles
,
IT Managed Services
,
kansas city mo
,
Managed IT Services
,
Small Business IT Solutions
,
LammTech
,
managed IT
|
Comments Off