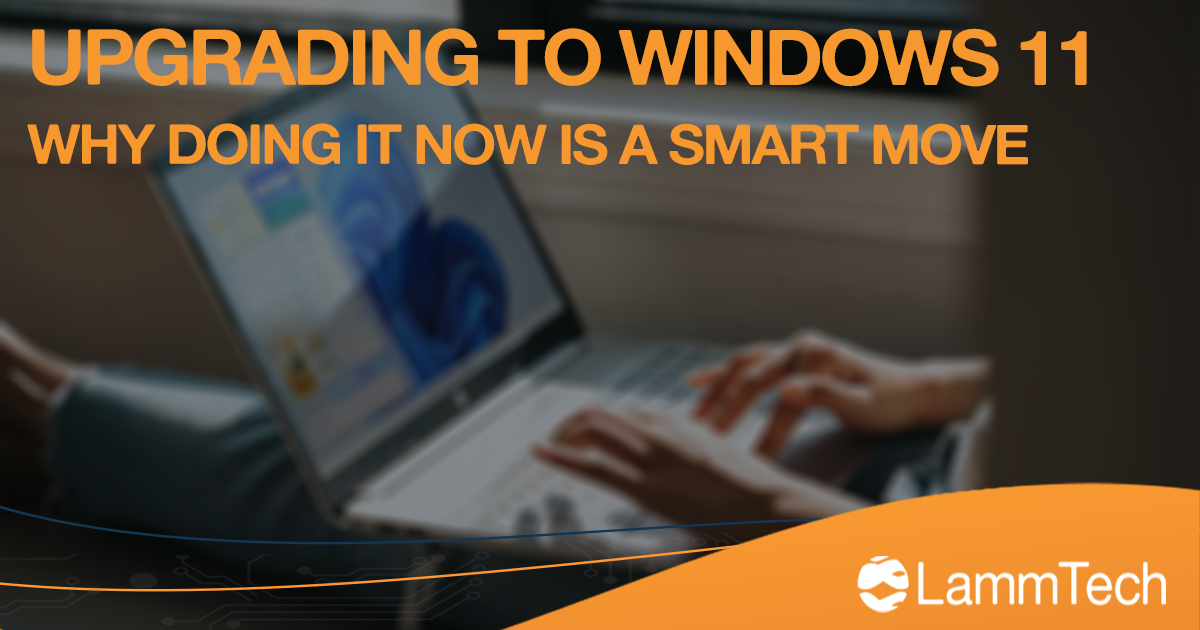 Why Upgrading to Windows 11 Now is a Smart Move
In our August conversation, we delved into the looming End of Support for Microsoft Server 2012 R2, set for October 10, 2023. We unraveled what this means and how Microsoft's Fixed Lifecycle Policy plays into that EOS. But that is not the end of the story. Windows 10 is also on a similar track, with its End of Support slated for October 14, 2025. While this date might seem far off, it is closer than you might think, and preparing for it now is a good idea.
Upgrading your software is not just about avoiding the pitfalls of unsupported software—it is also an opportunity to tap into the benefits that newer software versions bring to the table. Every upgrade comes with its set of perks, whether that's enhanced features, better security, or smoother operations, making it not just a necessary step, but a beneficial one. With this in mind, let us dive into why you should consider upgrading to Windows 11 sooner rather than later.
A Brief Refresher on End of Support
Microsoft's Fixed Lifecycle Policy outlines a structured support framework for its products, typically comprising a Mainstream Support phase followed by an Extended Support phase, spanning a total of about ten years from the product's release. This policy provides customers with a clear timeline of the level and duration of support they can expect, enabling them to plan accordingly for upgrades or transitions as products approach their End of Support milestone.
Mainstream Support: Mainstream Support marks the initial stage of a product's lifecycle under the Fixed Policy, traditionally spanning five years post-launch. Customers can expect security updates, non-security updates, self-help support, and paid support, and can submit requests to change the product design and features.
Extended Support: When Mainstream Support ends, some products transition to the Extended Support phase, where customers receive security updates, paid programs, and non-security fixes for eligible Unified Support Customers.
End of Support: The End of Support marks the conclusion of the Extended Support phase, whereby no further support or servicing is rendered under the Fixed Policy. During this time, customers can purchase paid programs for the applicable products, extending the support on a premium basis.
Why You Should Consider Upgrading to Windows 11 Early
So much of the discussion around End of Support revolves around the scary things that can happen if you leave it too late - such as security breaches, system failures, or compliance issues, which could lead to financial and reputational damages. Or it focuses on how daunting large-scale changes can be for organizations.
However, while these are important considerations, it is not the full story. You don't have to upgrade to avoid a negative, but rather to experience the positives. Windows 11 offers many benefits to businesses, and this is an excellent reason to upgrade early. Let's take a look at these positives.
Security Enhancements
Cybercriminals are becoming more sophisticated, and Microsoft knows this. Windows 11 introduces a range of security improvements, including TPM 2.0 (Trusted Platform Module) and Secure Boot. These features aim to safeguard the system against diverse threats such as malware and unauthorized access. While some older hardware might technically run Windows 11, it may lack the necessary security features, leaving the system more vulnerable. Microsoft's emphasis on security necessitates these hardware upgrades.
Crucially, Windows 11 is considered a Zero-Trust-ready operating system capable of protecting data and access across all devices. Zero Trust has surged in prominence in recent years and is quickly becoming the gold standard for business security.
Resource Management
Windows 11 is designed to manage system resources more efficiently, making better use of available hardware. This optimization can lead to improved battery life on laptops and better overall system responsiveness. However, achieving these benefits may require hardware that can take full advantage of the OS's resource management capabilities.
Azure Integration
Windows 11's integration with Azure facilitates a seamless connection to Azure Active Directory, enhancing security and management for businesses operating in cloud-centric environments. This integration allows for streamlined sign-in processes, enforcement of compliance policies through Azure AD Conditional Access, and centralized management via Microsoft Endpoint Manager. Moreover, Azure's Data Loss Prevention capabilities extend to Windows 11, aiding in protecting sensitive data across various Microsoft 365 services. This tighter integration aims to ease the administrative burden and bolster modern enterprises' overall operational efficiency and security posture.
Light Layout
Windows 11's refined design goes beyond aesthetics; it is tailored to boost productivity and inspire creativity while ensuring a user-friendly interface. The redesign fosters seamless multi-device functionality, with a revamped start button syncing recent files across devices via the Cloud. Improved taskbar positioning and innovative features like Snap Layouts and Snap Groups aid in efficient screen organization for multitasking. Additionally, the ability to curate distinct desktops for various professional uses or projects, demonstrates an intuitive, user-centric approach towards managing digital workspaces.
Connect and Collaborate
Windows 11 facilitates smoother digital interactions by embedding Chat from Microsoft Teams within the taskbar, enabling text, instant message, voice, or video communications across Windows, Android, and iOS platforms. Even if a contact does not have Microsoft Teams, communication is still possible through two-way SMS. Additionally, the convenience of managing digital interactions—like muting, unmuting, or initiating presentations straight from the taskbar—streamlines communication processes.
Lessons Learned
Those who recall the rocky deployments of Windows Vista (which, admittedly, many companies skipped) or Windows 8 (an operating system so poorly designed that many businesses opted to revert to Windows 7) will appreciate knowing the jump from Windows 10 to 11 is pain-free in terms of driver and software compatibility. In theory, post-upgrade, hours won't be spent troubleshooting printers or grappling with mysterious Windows 11 BSOD incidents.
Sometimes, Newer Hardware is the Answer
Pouring money into upgrading old machines to Windows 11 might not be the best decision. Older tech often develops problems due to age; if this happens, you've wasted money. With this in mind, channeling those funds into newer machines pre-installed with Windows 11 is often a smarter move.
Final Thoughts
Transitioning to Windows 11 before Windows 10's End of Support in 2025 is not merely about averting potential issues, but embracing enhanced security, efficient resource management, and integrated Azure connectivity. It is about future-proofing your organization and ensuring streamlined operations in a secure and collaborative digital environment.
By
LammTech
|
September 29th, 2023
|
Categories:
IT Managed Service
,
IT Security
,
MSP
,
Microsoft
,
CyberSecurity
,
Communication
,
columbia mo
,
Collaboration
,
Newsletter Articles
,
IT Managed Services
,
Windows EOS
,
kansas city mo
,
Small Business IT Solutions
,
sedalia mo
,
LammTech
,
MS Teams
,
Microsoft EOS
,
Data Security
,
IT Infrastructure
,
Secure IT
,
Microsoft Teams
,
IT Security MO
,
efficiency
|
Comments Off