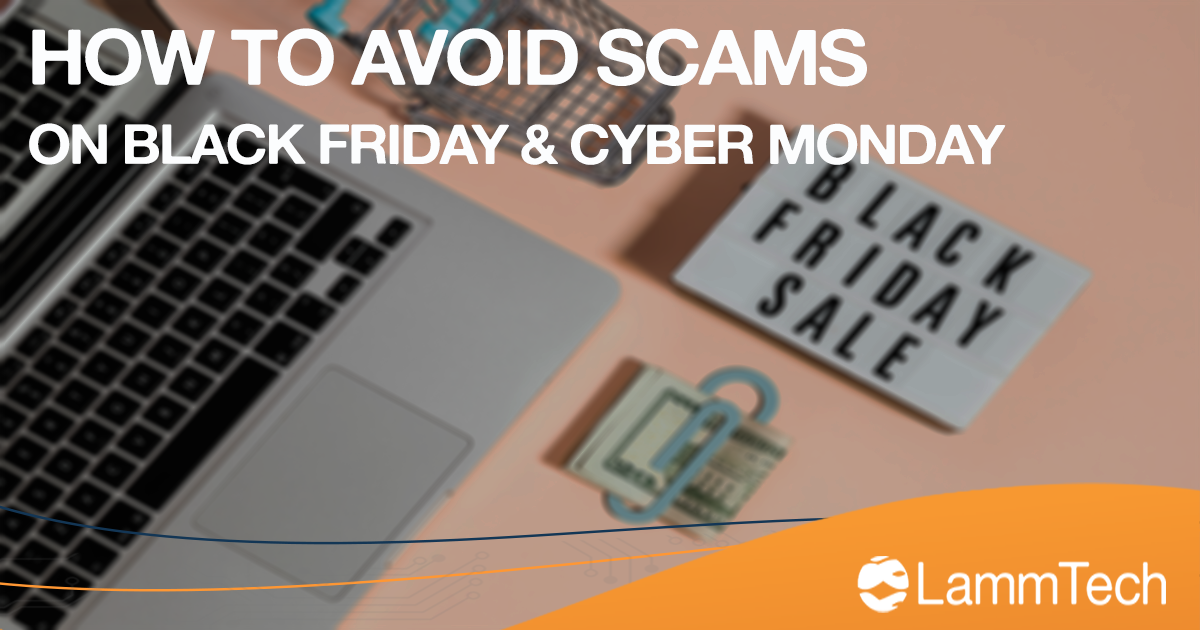 How to Avoid Scams on Black Friday & Cyber Monday in 2023
Gone are the days when most shoppers would trek to the mall and spend the day visiting various shops. Today, a customer's first touchpoint with a business is usually online, and the data reflects this. Global ecommerce sales are expected to reach $6.4 trillion in 2023, up from $5.211 trillion in 2021.
But for every trend, swindlers and hackers will attempt to capitalize. As Black Friday and Cyber Monday approach, the frenzy of deals and discounts also brings a surge of cyber threats. During this high-traffic weekend, vigilance is more crucial than ever. With this in mind, let's look at how you can stay safe and shop smart without falling into the digital trap.
Online Scams and Tactics You Need to Be Aware Of
Before we dive into how to protect yourself, you first need to know what you need to protect yourself from. Here is a quick look at the most common dangers of online shopping during the Black Friday and Cyber Monday weekend.
Phishing Emails & Websites: Scammers send fake emails pretending to be from reputable companies to get you to click on links and share personal or financial information. These emails often advertise unbelievable deals or claim there's an issue with an order to get your attention.
Fake Online Stores: These sites look like legitimate shops but are designed to steal your credit card information.
Counterfeit Goods: Scammers sell fake or inferior versions of popular products at a deep discount.
Gift Card Scams: These scams involve selling gift cards that have no balance or have already been used.
Malware and Ransomware: Malicious software can be installed on your device when you click on links or download files, which can then steal your personal information or even lock your device until a ransom is paid.
Social Media Scams: Fake ads or accounts promoting unreal deals, leading to fraudulent sites.
Fake Reviews: Scammers can post phony product reviews to entice shoppers to buy substandard products or services.
Bait and Switch: Advertising a product at a low price to lure customers and then informing them that the product is out of stock, directing them to a more expensive item.
Dangers of Shopping In-Store
If you think you can avoid scammers by heading to the store, this isn't entirely true - various scams and dangers exist in physical spaces too. Black Friday crowds become playgrounds for pick pocketers, who take advantage of distractions to steal wallets, phones, and other valuables.
On the scam side, you need to be cautious of credit card skimming (scammers installing devices on card readers, especially at isolated ATMs, to capture the information from swiped cards).
Tips to Stay Safe on Black Friday and Cyber Monday
Scams are rife on Black Friday and Cyber Monday. For example, 2020 data shows that 30% of US consumers received a phishing email around Black Friday. Moreover, security researchers found more than 5,000 scam and phishing sites were registered in November of the same year. Let's look at some ways to bolster your security over the holiday season.
Stick to Trusted Stores
You'll likely be bombarded with amazing deals from all sorts of websites, some you know well, and many of which you've never heard of. While clicking a link for a particularly good deal is tempting, be cautious. Hackers often use similar branding to companies you know and already trust, trying to trick you into revealing your sensitive information.
It's best to stick to deals on reputable websites, and always check you're using the legitimate version of the site. Double-check the website's URL for any slight misspellings or unfamiliar domain endings. Also, ensure there's a padlock symbol in the address bar, indicating a secure connection. When in doubt, manually type the known web address of the store into your browser to ensure you're not on a counterfeit site.
Of course, not all lesser-known websites are fraudulent; it's possible a legitimate company just hasn't come onto your radar until now. If you're unsure about a brand's reputation, check its scores on consumer review sites like Trustpilot.
Check Your Bank Account
It's crucial to safeguard your finances while navigating online shopping. Opting for payment methods like credit cards or services like PayPal can offer an extra layer of protection against unauthorized transactions. For instance, if you spot an unfamiliar charge after buying a gadget from a new site, these services often provide mechanisms for dispute and resolution.
Regularly monitoring your bank statements is critical to catching any suspicious activity early. Additionally, be careful with the information you provide at checkout; only share what's absolutely necessary for the purchase. If a site asks for more than the basics, that's a red flag.
Look for the Padlock Symbol to the Left of the URL
We touched on this above, but it is so vital to security that it deserves its own section. The padlock symbol signifies that the website uses encryption to protect the data you share, making it difficult for cybercriminals to intercept. If you submit payment details on a site without this padlock, you're sending your information without any protective layer. This exposes you to risks like identity theft, unauthorized transactions, and fraud.
Do Your Research Before Black Friday/Cyber Monday
Preparation is vital to snagging genuine deals during Black Friday and Cyber Monday. Before diving into the shopping frenzy, take the time to research the regular prices of items on your wish list. Some companies, unfortunately, use a tactic where they inflate prices just before these sales events, only to offer a "discount" that brings the cost down to the usual price or just marginally below. By being informed about the standard pricing, you can discern between authentic bargains and deceptive mark-downs, ensuring you get real value for your money.
Final Thoughts
As Black Friday and Cyber Monday approach, remember that while the internet offers convenience, it also opens doors for potential scams. Arm yourself with knowledge, be vigilant, and prioritize security over seemingly unbeatable discounts. Because the best deal you can score is a safe and scam-free shopping experience. Stay informed, shop wisely, and enjoy the savings!
By
LammTech
|
November 1st, 2023
|
Categories:
IT Managed Service
,
IT Security
,
cybercrime
,
MSP
,
CyberSecurity
,
credit card protection
,
columbia mo
,
Newsletter Articles
,
Email
,
Ransomware
,
kansas city mo
,
Managed IT Services
,
LammTech
,
hackers
,
Cyberattacks
,
Network Security Solution Providers
,
Data breaches
,
Data Security
,
phishing email
,
Secure IT
,
identity theft
,
online identity theft
,
spyware
,
Email Security Service Providers
,
Internet of Things
,
IT Security MO
,
risk
,
strong passwords
,
virus
|
Comments Off