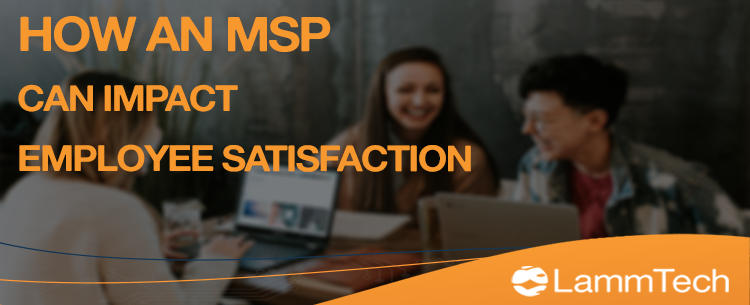 How an MSP Can Impact Employee Satisfaction
Ensuring employee happiness and job satisfaction is part of the job taken on by any good leader. Making sure employees are satisfied with their work and their job role is key to retention and efficiency.
Computers and technology are required for almost any job. With this comes a new class of issues that can sour any employee's working experience. IT problems can very easily pile up over time, frustrating employees, and causing unnecessary downtime. Having to do extra work or put off important tasks can breed unhappiness and create an unsatisfying work environment.
How IT Issues Can Ruin a Work Environment
There are many ways in which IT problems can affect an employee's work experience. However, some issues can undoubtedly stand out more than others and do a lot more than just cause a bad day. Coming in to work and being greeted by technical problems can leave an employee with negative feelings. Especially if the time it takes to get back up and running is long.
In addition, with the huge shift to online and remote work, employees can feel stranded at home with no help if their computers and work-related tech experience problems.
IT issues don't only dissatisfy employees but also create roadblocks in productivity. Employees can't properly do their jobs when their tech isn't working. Having these types of obstacles at work decreases operating efficiency and can potentially increase labor costs. Employees who must work longer due to having their time consumed by dealing with IT problems effects your bottom line. It also effects how they feel about their workplace.
These problems and the attitudes they foster can ultimately lead to a culture of unhappiness in the organization. In the worst-case scenario, these issues can build up over time and cause employees to choose to part ways with their employers. The result is high turn-over rates that lead to increased hiring, training, and onboarding costs due to the need to fill positions that have become riddled with tech problems.
How Can Hiring an MSP Solve These Problems?
Choosing to hire a competent IT company to design and manage your network can significantly benefit your company and eliminate IT and tech issues and the complications that come with them.
A good Managed Services Provider can work with your organization to review your systems. They'll work to solve existing issues, as well as prepare for future issues that might arise. This allows for a more productive and efficient workforce since employees no longer have to worry about working through tech issues or trying to resolve IT problems themselves.
In addition to increasing employee productivity, eliminating tech issues also means employees can return from time off or sick leave and get straight to work. Removing the stigma of coming to work and being met with a slew of issues relieves stress and anxiety.
Employees working remotely or making the move to a work-from-home setup won't have to worry about running into IT issues that leave them to their own devices. An MSP provides a team to easily solve issues remotely. Choosing a provider with 24/7 services can help by making sure IT assistance is always available. A dedicated help desk is a staple feature of any good IT MSP and can be invaluable to your team.
Hiring an experienced IT management company can improve employee satisfaction. It can also indirectly make a more positive work culture and environment possible. It's less likely that employees will consider leaving their positions when they aren't plagued by constant tech and network issues making their jobs more tedious and difficult. In turn, this can drastically lower the costs of hiring, onboarding, and training.
In addition to lowering turn around rates, an MSP can allow for a more skilled and efficient workforce. Employees will be able to concentrate on their core job functions, instead of IT.
Backed by Science
At the end of the day, this isn't only speculation. A good IT management company's benefits are backed by data regarding employee satisfaction. The 2020 Deloitte Global Human Capital Trends survey reported that 80% of respondents identified well-being as important or very important to their organization's success.
Employee well-being encompasses more than just benefits such as paid leave, salary, and professional development opportunities. Well-being also includes optimized workspaces and equipment as well as digital workspaces to facilitate collaboration and productivity.
These components, and many more, can easily be facilitated by engaging with an IT Managed Services Provider. By ensuring the company network and systems are up and running for the entirety of the work day, employees are provided with the tools they need to get their work done properly. When they have all the help they need at their disposal they are able to overcome any problems in their way and give their best every day.
By
LammTech
|
February 1st, 2021
|
Categories:
IT Security
,
cybercrime
,
Manufacturing
,
Remote Working
,
columbia mo
,
Newsletter Articles
,
IT Managed Services
,
kansas city mo
,
Managed IT Services
,
Small Business IT Solutions
,
LammTech
,
managed IT
,
IT for manufacturing
|
Comments Off