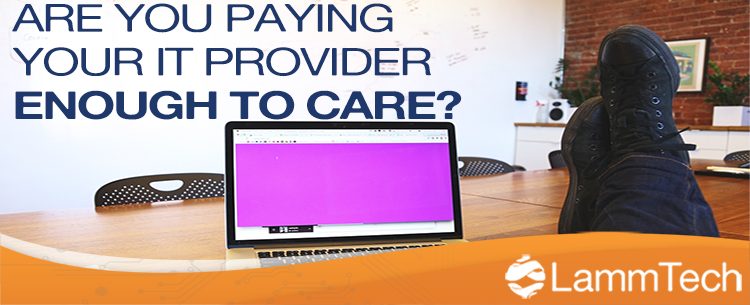 Are You Paying Your IT Provider Enough to Care?
Every now and then, we are contacted by a company that has had, or is having, a bad experience with their current IT provider. These conversations typically revolve around expectations that are not being met. Their systems are down, they can't process transactions, or they can't recover from backups. In the worst cases, they are experiencing a ransomware attack due to their IT providers compromised systems.
Being a Managed Service Provider (MSP), we hear all the stories, and often it really comes down to this: Are you paying your IT provider enough to really care?
What does the agreement say, or do you even have one?
We once spoke with a company who said they were down for a total of 9 days while their IT provider attempted to resolve a network outage. This left a 22-employee company to enter all information manually while their systems were offline. Their IT provider had no sense of urgency or understanding about how this event was impacting revenue and productivity.
Why didn't the IT provider work faster to get the systems back online? It could have been that the provider didn't have the right hardware or processes in place, or the right technical resources at the ready. Or, it could have been that the services necessary to get the company back up and running were not included in their agreement with their IT provider.
In this case the company's agreement, and the amount they paid the provider, did not include the service offerings necessary to get them back online quickly. Their network outage didn't negatively affect the provider, it was actually just the opposite. They were charged extra to resolve the issue.
Expectations vs. Reality
Another organization we engaged with told us about the length of time it took to get support from their current IT provider. During our conversation they told us that in order to receive support they first had to email the person in their company who was designated as the main contact with the IT provider. It was that person's responsibility to contact the provider's dispatcher and create a ticket to relay the problem. Then the dispatcher would schedule a technician to call the company in order to have the issue relayed again.
Think about the process of a password reset for one of your users. A task that takes less than 15 minutes now, takes much longer when you have 3 different people in between the employee who needs assistance, and the technician that can actually help. The expectation is that they will address it immediately but in reality, it takes 4 hours to reset a password.
Why is this the procedure the IT provider has in place? This structure is used to control costs when the monthly fee amount is low. They can redirect resources to more prominent (higher paying) accounts while customers in the lower tier are put on the back burner.
Rate of Attrition
Both of these situations bring up the question, are you receiving "relationship" value from your IT provider with your low-cost IT agreement? Why does relationship value vs. low cost matter? Shouldn't your IT provider care if they lose your business?
The reality is, they don't need to care, because you don't pay them to. If an IT provider has 100 low value clients, losing 2-3 accounts per month doesn't affect their bottom line, as compared to an IT company that services 25 high value clients for the same revenue. They budget to lose those 3-4 clients while replacing those with another 3-4 low value accounts. In our industry this is called customer churn https://blog.hubspot.com/service/what-is-customer-churn.
Sure, using this philosophy the provider runs through quite a few companies, but there are plenty of others willing to pay a low amount for lack luster services. There is nothing holding the IT provider accountable in executing on their service delivery if you are apathetic about creating a relationship.
Successful companies leverage technologies and relationships to gain momentum in their vertical space. They need a relationship with a trusted IT partner that has qualified staff, accountable business practices, and has a clear understanding of your business mission and goals. Your IT partner needs to be involved to help your business be successful and can share in your success. That comes at a cost. It is far easier to budget for quality IT support than to budget for outages that affect productivity and efficiency.